On this page you will find overviews of most recent terror attacks. Primarily we focus on old Europe here, but have added a few other attacks in Turkey, US etc., where anyone of us could just as well have been present.
Our Analysts as Ansnei.com constantly monitor the security situations for our clients. We also provide trainings for frequent travellers, with updated insights on how best to avoid ending up in our statisticks of killed and injured. The next course on Travel Safety is in Copenhagen on March 30th. Stay Safe – and feel free to research a bit on your own below here.
Paris, France May 2018 Paris knife attack
21-year-old Franco-Chechen man stabbed one pedestrian to death and injured four others. The attacker was later killed by police. The suspect, had been on a counter-terrorism watchlist since 2016. More info on our related post with French Stabbing – Again
Carcassone and Trèbes, France March 2018 Supermarket Attack
5 dead, 15 injured by a 26-year-old who pledged allegiance to Islamic State. First he attacked and stole a car, killing a passenger and wounding the driver, in Carcassonne. Later he arrived in Trèbes where a police officer was injured when he was shot by the attacker. Then, he attacked a supermarket, where two civilians were killed and several others were injured.
Münster, Germany April 2018 Van Attack 
2 killed and 20 people severely critically injured by a 48-year-old German national, who shot himself dead after ramming into the crowd. He ploughed a van into people sitting outside on a warm afternoon in Münster, crashing into tables outside of the Grosser Kiepenkerl restaurant in the historic centre of the city.
Kizlyar, Russia February 2018 Church Shooting
6 dead 6 wounded in a shooting at a church in Russia. The attacker was shot and killed by police officers. The Islamic State claimed responsibility for the attack through Amaq news.
Marseille, France October 2017 Stabbing
3 dead. Two women, 20 and 21-year-old cousins, were attacked using a knife. Patrolling soldiers shot him dead. ISIS later claimed responsibility, a claim which French intelligence services described as "opportunistic". The prosecutor opened an investigation for "murder in connection with a terrorist enterprise".
2017 Las Vegas, USA October 2017 shooting
59 dead, 851 injured, of which only half were injured by gunfire. The gunman opened fire on a crowd of concertgoers at the Route 91 Harvest music festival on the Las Vegas Strip in Nevada
London, United Kingdom September 2017 Parsons Green bombing
30 injured by a bomb explosion on a District line train at Parsons Green tube station.
Turku, Finland August 2017 Turku stabbing 
Two civilians were killed and eight others where injured by a man inspired by the Islamic State.
Barcelona, Spain August 2017 Barcelona Van and Knife Attacks
24 dead, 152 wounded in several spanish incidents. A van was driven into pedestrians in Las Ramblas, Barcelona, killing 14 and injuring at least 130. Two suspects then fled on foot, stabbing another civilian to death in the process. A woman and five attackers were killed in a related attack in Cambrils when a car tried to run into pedestrians and attackers stabbed people. Two suspects were killed in an initial accidental explosion during the preparation of explosives that were to be used in the attack in Alcanar.
Levallois-Perret, France August 2017 Levallois-Perret Car Attack
6 wounded when car rammed into a group of dozen soldiers taking part in Opération Sentinelle. According to the prosecutor the suspect "had radical beliefs".
Hamburg, Germany July 2017 Hamburg Stabbings
1 dead 7 injured when a man stabbed with a kitchen knife. The attacker said that "his aim was to kill as many Germans as possible to avenge Muslim suffering worldwide"
Brussels, Belgium June 2017 Brussels Central Station Bombing
Moroccan immigrant, ran into the Brussels Central Station where he detonated a small bomb. He then ran towards soldiers in another part of the station, and was shot. The attack failed.
Paris, France June 2017 Champs-Élysées car ramming attack
A car loaded with guns and explosives was rammed into a Gendarmerie vehicle on the Champs-Élysées in Paris, France. The attacker was shot and killed by police.
Paris, France June 2017 Notre Dame Hammer Attack
An Algerian PhD student, who prosecutors allege had pledged allegiance to ISIL in a video, was arrested for using a hammer to attack an officer guarding Notre Dame de Paris. Knives were later found in his rucksack
London, United Kingdom June 2017 Van Attack
11 dead, 48 wounded when a van ran into pedestrians on London Bridge and then drove to Borough Market, where the three occupants attacked people with knives before being shot.
Manilla, Philippines June 2017 Casino Robbery
38 died and 70+ injured when a gunman shot and set fire to casino tables and slot machine chairs. All of the attack's deaths and injuries resulted from the initial stampede and smoke inhalation from the fire.
Manchester, United Kingdom May 2017 Arena bombing
23 killed 512 wounded at Manchester Arena after  concert by American singer Ariana Grande.
Paris, France April 2017 Champs-Élysées attack
Three police officers and a bystander were shot by an attacker wielding an AK-47 rifle on the Champs-Élysées, a shopping boulevard in Paris. The attacker was shot dead.
Stockholm, Sweden April 2017 Truck Attack
Five people were killed and 14 wounded by an Uzbek hijacking a truck and driving it into pedestrians along a shopping street before crashing into a department store.
Saint Petersburg, Russia April 2017 Metro Bombing
Killing 16 and injuring 64, a suicide bomber blew himself up on the St Petersburg Metro, on the day Vladimir Putin was due to visit the city. Metro bomb attacks are common place in Russia.
London, UK March 2017 Westminster attack
6 died, 50 injured by a 52-year old Muslim convert, who drove a car into pedestrians on Westminster Bridge, injuring 50 people, five of them fatally. He then crashed his car into the fence of the Palace of Westminster and fatally stabbed an unarmed policeman before being shot dead by other officers.
Orly Airport, France March 2017 Airport Attack
Attacker killed, after injuring two.
Istanbul, Turkey January 1st 2017 new years killing
39 died, 70 wounded in a mass shooting at a nightclub in Istanbul. Hundreds of people were celebrating New Year.
Berlin, Germany December 2016 the second truck attack
Twelve people died and 56 others were injured after a truck was driven into a Christmas market in Berlin. Days later, having fled to Italy, the attacker shot an Italian police officer doing a routine check, before being killed by police.
Brussels, Belgium October 2016 Machete attack
4 injured, when three police officers were attacked by a man wielding a machete.
Moscow, Russia August 2016 Highway Police Attack
3 died and 1 police officer severely wounded when two  Chechen origin men attacked a police station on the Shchelkovo Highway with firearms and axes.
Charleroi, Belgium August 6th 2016 Machete Attacker
Two policewomen were attacked and wounded by an assassin wielding a machete. He was shot and killed by a third officer.
Saint-Étienne-du-Rouvray, France July 2016 Church killing
3 dead and 3 wounded when assassins took hostages at a church, killing a priest and seriously wounding another person. The attackers were killed by French Special Police.
Ansbach, Germany July 2016 Wine Bomb – first German suicide bomber 
1 died, 15 wounded after a 27-year-old Syrian detonated a bomb at a wine bar after being denied entry to a nearby music festival, killing only himself, but wounding 15. Authorities found a recorded video message on the attacker's phone, pledging his allegiance to ISIL. The Ansbach bombing was the first suicide bombing in Germany by Islamist terrorists.
Würzburg, Germany July 2016 Axe Train Attacker
Leaving 5 persons severely woulnded, and only the attacker himself died, when a 17-year-old Afghani attacked passengers on a train with an axe and a knife.
Nice, France July 2016 – First Van Attack
87 died and 458 injured when a cargo truck was deliberately driven into crowds celebrating Bastille Day on the Promenade des Anglais in Nice. This was the first of many more Truck Attacks to come.
Istanbul, Turkey June 2016 Airport Raid
48 dead and 230 injured in an terrorist attack, consisting of shootings and suicide bombings, occurred on 28 June 2016 at Atatürk Airport in Istanbul, Turkey. Gunmen armed with automatic weapons and explosive belts staged a simultaneous attack at the international terminal.
Magnanville, France June 2016 stabbings and hostages
3 dead. A man stabbed and killed a 42-year-old police officer, then taking the officer's wife and son hostage. The attacker also killed the officer's wife.
Essen, Germany April 2016  Sikh Bombing
3 severely wounded when a bomb exploded at a Sikh temple during a wedding ceremony. Three radicalised teenagers with connections to Islamic extremists were arrested and sentenced from six to seven years in prison
Brussels, Belgium 2016 March Airport Bombings
35 dead and 340 wounded in three coordinated suicide bombings in Brussels: two at Brussels Airport in Zaventem, and one at Maalbeek metro station. In these attacks, 32 people and the three bombers were killed, and 340 people were injured.
Istanbul, Turkey 2016 March bombing
5 dead, 36 wounded when a suicide bombing took place in front of the district governor's office by a central shopping street.
Hanover, Germany 2016 February Stabbing
One federal policeman was critically wounded by a 15-year old girl's stabbing attack
Istanbul, Turkey 2016 January Bombing
14 dead, 9 injured when a suicide bomber blew himself up near Hippodrome of Constantinople near the Sultan Ahmed Mosque in Istanbul, killing 13 people and wounding another 9, most of whom were foreign tourists.
Marseille, France 2016 January Beheading
1 wounded when a 15-year-old Turkish boy, attempted to behead a teacher from a Jewish school with a machete.
Paris, France 2016 January Police Station Attack
Attacker dead, 1 injured, when an asylum seeker wielding a knife and a fake bomb vest shouted "Allah Akhbar" outside a police station. He was shot dead.
Paris and Saint-Denis 2015, November co-ordinated attacks
137 died, and 413 wounded in a series of co-ordinated attacks with shootings, bombings, hostage taking in France. Duration, was about 35 minutes at six locations in central Paris.
Berlin, Germany 2015, September Police Stabbing
1 dead, one police woman injured severely
Oignies, 2015, August Thalys train attack
4 woulnded, when a man threatened passengers with an assault rifle on a Thalys train between Amsterdam and Paris in France. One passenger was shot in the neck with a pistol when the rifle jammed. Two US military and their civilian friend overcame the attacker.
Saint-Quentin-Fallavier France 2015 June – beheading and van attack
One died, two injured when an attacker beheaded his employer, impaled his head on a fence, and then blew up gas cylinders at a factory by ramming his van into them. The attacker was arrested, but committed suicide by hanging himself in his cell later the same year.

Copenhagen Denmark 2015 February, the Krudttønden Attack
Three dead, six injured over two days in Copenhagen 'terrorist attack'. When this attack happened, Denmark was ranked as the second safest place on earth. 
More info: Wiki Copenhagen shootings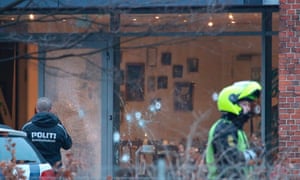 Nice France 2015, February, Stabbings
Three wounded by a man stabbing in Southern France by a Jewish community center. The attacker was arrested.
Paris France 2015, January "Charlie Hebdo shooting"
Twenty died, 22 injured over 3 days of attacks, which were several shootings, hostage crisis, siege in Supermarket.
More info: Wiki Île-de-France attacks
Joué-lès-Tours, France 2014, December stabbing
1 dead, 3 injured when attacked officers with a knife in France
Brussels, Belgium 2014, May Museum Shooting
4 dead in shooting in a museum in Belgium
Toulouse & Montauban, France 2012, March shootings
7 dead (including 3 children), 5 wounded in attacks over 9 days in several Southern French cities.
Oslo, Norway July 2011 Shootings
77 dead after Norwegian mass murderer Anders Behring Breivik murdered 77 people in 2011 in two terror attacks.

London, UK 2005, July London bombings
Fifty-two people, all UK residents but of 18 different nationalities, were killed and more than 700 were injured in the attacks.
Four terrorists separately detonating three bombs in the London Underground trains across the city and, a fourth on a double-decker bus in Tavistock Square.
Amsterdam, Netherlands 2004 Theo van Gogh assassination
Dutch film director Theo van Gogh was assassinated by Mohammed Bouyeri while biking in Amsterdam. Bouyeri despised Van Gogh's work on Islam and shot and stabbed him several times; Van Gogh asked for clemency before dying but was shot another time in return.
Madrid, Spain 2004 Madrid Bombings
192 killed and ~2000 injured. Attacks were directed by an al-Qaeda terrorist cell, although no direct al-Qaeda participation has been established. Spanish miners sold explosives to the terrorists.